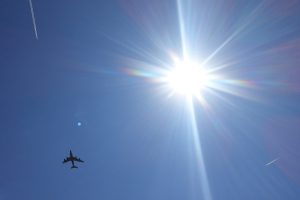 ,הַלַּיְלָה שׁוּב הָיִיתִי שָׂם
,חוֹזֵר לְהַמְשִׁיךְ אֶת שֶׁהִפְסַקְתִּי לִפְנֵי דּוֹר
,מַמָּשׁ כְּמוֹ שֶׁהִבְטַחְתִּי לְרַב סֶרֶן מְעוּטָּר
.בָּעֶרֶב הַהוּא, כְּשֶׁהַחֲלוֹם נִשְׁבָּר
,רִיצָה אֲרוּכָּה, הִתְנַשְּׁפִויות
,סְבִיבִי אֲנָשִׁים זָרִים
,בְּמָקוֹם מוּכָּר
.שֶׁשּׁוּם דָּבָר לֹא הִשְׁתַּנָּה בּוֹ, גַּם בַּחֲלוֹם
,רֵיחוֹת מִדְבָּר מְיוּחָדִים
,מַדִּים חֲמוּצִים, זֵיעָה צוֹרֶבֶת
,וְגוּף דּוֹאֵב תְּמִידִית
.מִמַּאֲמָץ שֶׁאֵינוֹ מַרְפֶּה
,בַּמְּצִיאוּת הַהִיא רוֹמֶזֶת הַיְּדִיעָה
,כְּמוֹ מַשּׂוּאַת מִגְדָּל מִמֶּרְחַקִּים
,שֶׂמָה שֶׁהָיָה כְּבָר לֹא יִהְיֶה
.אֲבָל כְּמוֹ אָז גַּם עַכְשָׁיו, מַמְשִׁיכִים
,בְּעוֹלָם הָעֵרוּת כְּבָר הֵבַנְתִּי מִזְּמַן
,לְאַט לְאַט, וְלֹא לְבַד
,שֶׁכּוֹל זֶה הָיָה רַק חֲלוֹם
.שֶׁחָלַמְתִּי בַּמְּצִיאוּת
,אַךְ בְחֶשְׁכַת הַלַּיִל אֲנִי דּוֹאֶה שׁוּב דָּרוֹמָה
,לַכְּאֵב, לַעֲיֵיפוֹת, רִיפְיוֹן, וְלַנְּחִישׁוּת
,וְשׁוֹאֵל אֶת עַצְמִי שׁוּב מִתּוֹךְ שֵׁינָה, אִם הַפַּעַם
.זֶה יִסְתַּיֵּים אַחֶרֶת
Wings
Tonight I was back there, again,
Returning to continuing what I have stopped a generation ago,
Just as I had promised a decorated Major,
That evening, when the dream broke.
Long run, gasping,
Surrounded by strangers,
In a familiar place,
Where nothing had changed, even in the dream.
Unique desert smells,
Sour uniforms, burning sweat,
And a constantly sore body,
From a relentless effort.
In that reality knowledge hints,
Like a tower beacon from afar,
That what was, shall not be,
But much like then, now too, carrying on.
In the woken world I have long since understood,
Slowly, slowly, and not by myself,
That all this was just a dream,
I have dreamed in reality.
But in the darkness of the night, I glide back south,
To the pain, the fatigue, the limpness, and determination,
And ask myself once more in my slumber, if this time,
It will end differently.
March 25, 2019