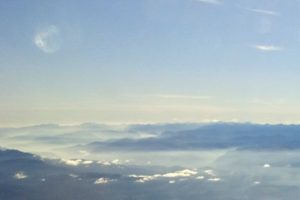 From height of level three seven zero,
Rivers seem like veins,
Highways traffic capillaries,
Trees are pinhead greens.
High above all flying creatures,
White of clouds on end,
Humanity to the horizon,
Jet rumble constant jeer.
Motion down is hardly noticed,
Less so aspirations, dreams,
Mankind from the heavens – minuscule,
Far too small to discern.
Tone of skin or language parlance,
Dogmatic camps or conflict lines,
Cries of war or calls for peace,
Unknown from heavens heights.
Blues of oceans, white tall mountains,
Lights of cities, green of trees,
Birds and mammals, fish in ocean,
Life in endless harmonies.
Days with moments overwhelming,
Times of hate and deep despair,
Fly your mind into the heavens,
Spirit sound and mind a clear.
*Flight Level – aviation term for flying altitude.
May 14, 2014