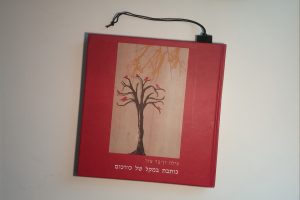 ,לְעֵת לָיִל
,כְּלֵי עֲבוֹדָתִי שׁוֹבְתִים
.וְתָם עָמַל הַיּוֹם
,אֲרוּחַת הָעֶרֶב נִסְעָדַה
,וְהַבַּיִת דּוֹמֵם
.שָׁקֶט
,אֲנִי שׁוֹכֵב בְּמִטָּתִי
,וְלְאוֹר מְנוֹרַת הַלַּיְלָה
,קוֹרֵא
,דַּפִּים כְּתוּבִים בְּמַּקֵּל שֶׁל כּוּרְכּוּם
,סִפּוּרִים בְּהִירִים שֶׁל אַהֲבָה וְרֹךְ
,מִמָּקוֹם רָחוֹק
,וּזְמַן אַחֵר
,שֶׁהוּא כָּאן
.תָּמִיד
At Day's End
At nightfall,
My work tools have settled,
The day's labor has ended.
Dinner was eaten,
And the house is still,
quiet.
I lay in my bed,
And to the bedside light,
Read,
Pages written with a stick of turmeric,
Bright stories of love and tenderness,
From a faraway place,
And another time,
That is here,
Always.
February 14, 2017